Waterbox
Regular price
€2.890,00 EUR
Regular price
Sale price
€2.890,00 EUR
Unit price
per
Sale
Sold out
Omassa varastossa: 0 kpl (jos tuotetta ei ole omassa varastossa, toimitusaika 1-2 viikkoa)
Delivery and return

Delivery from our own warehouse within a week. You can also pick up the product from our store! If the product is not in stock immediately, we will order it from our supplier, in which case the delivery time is 1-2 weeks.
Share this product
 Hinta sisältää rahdin Hollannista Suomeen asiakkaan ovelle tai Siniriutan varastolle.
• Dimensions (LxWxH): 1,223 x 643 x 410mm (48.2" x 25.3" x 16.1")
• Height with Cabinet: 1,337 mm / 52.6"
• Display Volume: 295 L / 78 gal
• Total Volume: 473 L / 125 gals
• Glass Thickness: 12 mm (1/2")
• Includes: Aquarium, Cabinet, Sump, Plumbing Kit, Filter Socks, Sock Silencers
Reach New Heights
Waterbox Aquariums® takes pride in hand-crafting stunning glass display aquariums that are renowned for superior cleanliness and quality.
Renowned for superior quality.
Ultra-Clear diamond beveled
glass offers visual clarity up to 19mm (3/4").
High-strength black silicone
provides clean lines and longevity.
Central Overflow
with water etched glass weir comb allows for optimal flow.
THE PLUMBING
Safe, Silent and Tested for Performance
Our plumbing systems offer the convenience of quick and easy assembly, while delivering high-performance results equivalent to those achieved through custom designs.
Quick Connect Fittings
assemble quick and easy with no gluing required.
Easy Assemly with no gluing required
Return Line includes
dual adjustable nozzles
for maximum turnover.
Precision Overflow Valve
allows for precise adjustments ensuring quiet operation.
Manifold
provides access for additional reactors and equipment.
Designed to prevent flooding.
Check Valve
ensures back syphon does not overflow the sump.
THE SUMP
Did you say filter roller? 
The INFINIA® sump system features an integrated filter sock chamber which can easily adopt the most popular filter rollers.
Filter Sock Filtration featuring dual 7-inch filter socks to maximize filtration capacity.
Skimmer or Media Reactor Chamber with ample space for the industry's leading skimmers and reactors.
Easily adopt the most popular filter rollers.
Refugium maximizes your nutrient export.
Included RO Reservoir for ease of maintenance using an electronic top-off system.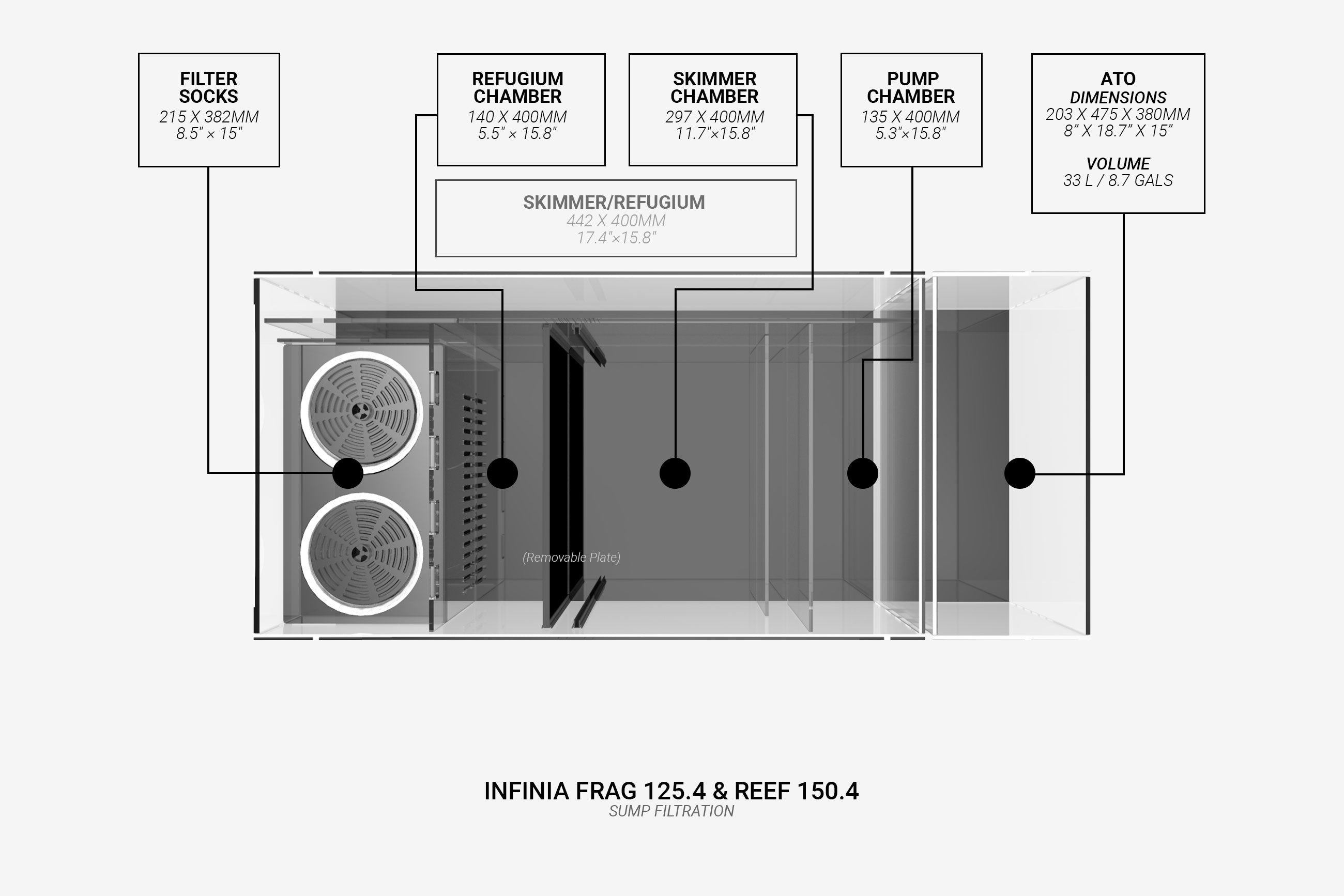 THE CABINETRY
Strength and Durability
Unveiling our new MarineShield® cabinetry system. Showcasing strength, durability, and corrosion resistance. With long lasting performance at its core, this series is engineered to stand the test of time.
Constructed with 30mm aluminum framing to easily withstand the weight and humidity of your aquarium system.
High weight capacity adjustable leveling feet ensure your aquarium is level, front to back and side-to-side.
View full details